Dr. John Casson
Ph.D., M.A., B.A. (Hons), P.G.C.E., Dip. Dth., Dip. Psychd.
John has now retired

Jointly qualified in dramatherapy (1983) and psychodrama (1991), John was one of the most experienced therapists in his field. During a decade in NHS adult mental health (Tameside, 1984-94), he set up the largest team of Arts Therapists in the North of England; he established a service for women survivors of sexual abuse (Casson & Corti, 1990). He later ran the first groups for male survivors of sexual abuse in Huddersfield NHS Trust (with Madeline Andersen-Warren, 1999-2000). Throughout this time he has worked with people who struggle with serious and enduring mental health problems including psychotic experiences. He registered for a doctorate at the Metropolitan University of Manchester in 1996 and completed his PhD research in 2002. In this groundbreaking study he showed how dramatherapy and psychodrama could be safely and effectively used by people who hear voices. His book "Drama, Psychotherapy and Psychosis: dramatherapy and psychodrama with people who hear voices" is based on that research and is published by Routledge. He has written a five act play "Voices and Visions" also based on his research. This play is available free of charge as an attached computer file.
He was a founder member of the Northern Trust for Dramatherapy and the Northern School of Psychodrama.
He was given a Life Time Achievement Award at the 2012 conference of the British Psychodrama Association.
Before training as a therapist, John's background was in theatre and education. From 1973-84 he worked in theatre as a puppeteer, mask maker, playwright and director, performing in England, Europe, USA, Turkey, Iran and India.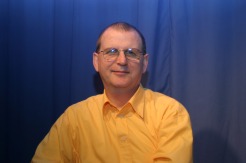 Photo by Turaab Naqvi
During this period he also taught English and Drama. His MA research was into the shamanic healing dramas of Sri Lanka (Birmingham 1979). He has written numerous academic articles and contributed seven chapters to edited books on dramatherapy and psychodrama, as well as writing his own book.
For further information see:
www.creativepsychotherapy.info
References:
Casson, J. (1979) unpublished M.A. thesis: Shamanistic Elements of Oriental Theatre, with special reference to the traditional forms of drama in Sri Lanka: Birmingham University
Casson, J. & Corti, P. (1990) Dramatherapy into Psychodrama: An Account of a Therapy Group for Women Survivors of Sexual Abuse, The Journal of the British Psychodrama Association, Vol 5 No. 2.