What are the Communicube and Communiwell?
The Communicube and Communiwell are transparent, open, five level structures: communication tools for use in therapy, supervision, team building, life coaching, education and play. They may be used with children, adolescents, adults, couples, families and groups. Using buttons and other miniature symbolic objects, patterns and stories emerge which can then prompt reflection and insight. Flexible and empowering, the structures are containers that enable people to explore aspects of self, their relationships with others and their view of the world.
From December 2013 - August 2014 the communicube and communiwell were displayed as part of an exhibition MIND MAPS at the Science Museum, London.
Communicube Ltd is delighted to announce that The Science Museum, London has acquired three early prototypes including the very first structure John made during Christmas 1998. These will become part of the National Collection of objects and materials used by psychologists, psychiatrists and psychotherapists. Another prototype has been acquired by Manchester Metropolitan University's Psychology Department.
Dr. John Casson is especially honoured by the acquisitions which will conserve these original structures for future study.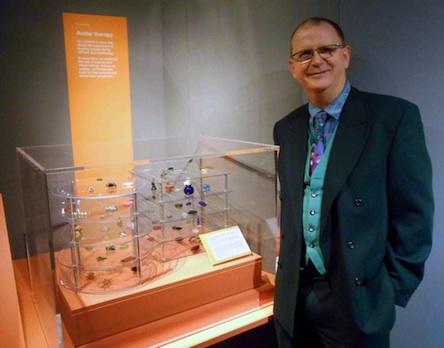 Testimonials
The Communicube offers a safe focus and invariably produces rich material. Its versatility means that I can adapt its use to respond to specific needs. Each time I have used the Communicube it has moved the theraputic work on considerably.
Julie Lloyd, Dramatherapist working in GP surgeries - Leeds, UK
I have used the Communicube in various settings ranging from clinical supervision, team working to creative play. The benefits of this exciting tool are only limited by the creative imagination of those who use it.
Jan Costa, psychodrama psychotherapist - Manchester, UK
Groups have found it useful to have a focus when discussing a topic. Virtually any topic can be illustrated. The structure has proved very popular, everyone wanting to take a turn. It united the group in an empathetic way while giving each member some individual attention, and illustrating complex events or relationships.
Alisdair Gould, teacher - Paris, France